---
A safe fence that meets the regulations
The glass pool fences that we distribute meet all the requirements of the Residential Swimming Pool Safety Regulation to prevent pool accidents and drownings:
Height 1.2 m
Nothing that allows the fence to be climbed
No openings that will accommodate an item 10 cm in diameter
Access door with an automatic closure inside the door
Sturdy, high-quality product
---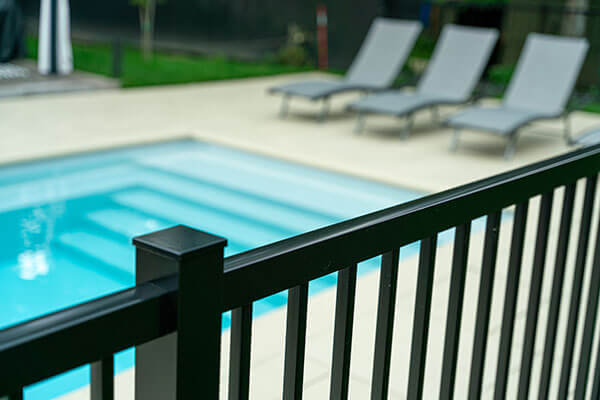 A pool fence fit for the Québec climate
Glass pool fences are sturdy and durable and need little maintenance because they neither rust nor fade. You just have to wash them once or twice a year to remove any dust not washed off by the rain. Also, they are made of 10- or 12-mm tempered glass designed to resist the typical bad weather and temperature changes in our climate.
A refined solution at an affordable price
Glass pool fences are an excellent option to add a clean, refined look to your yard. They make your lot look high-end and can match your glass balcony railing for consistency.
No matter the dimensions of your lot or pool, we can design a glass pool fence to measure that will highlight your landscaping. Prices vary depending on the type of fence, but the average is $89 per linear foot, including installation.
Our online store products for swimming pool fences