Glass railings
Rampes et Balcons was a pioneer in the field of glass railings and guardrails in the Laurentides and Montréal regions. The experience gained from its many completed projects, as well as the savoir-faire of its team, ensure totally personalized solutions.
---
What are the advantages of glass railings and guardrails?
The principal advantage of glass railings is definitely that they are transparent. They are sturdy and durable, so they are appropriate indoors and out. On a balcony or deck, they give you a clear view over your yard, pool or lot so you can take full advantage of the nature around you. Not only that, but there's nothing better at cutting the wind on a raised deck!
Inside, glass railings, balustrades and guardrails give the impression of expanding your spaces and prevent that closed-in feeling by offering a view over all floors in the house. Glass railings also let in lots of light, making your rooms brighter and showing off your décor with distinction, whether in a house, a condo, a business or an office building.
The advantages of glass railings, balustrades and guardrails:
Durability and sturdiness
Transparency and increased brightness
Clean, timeless, chic design
Safe and easy maintenance
Excellent investment for your property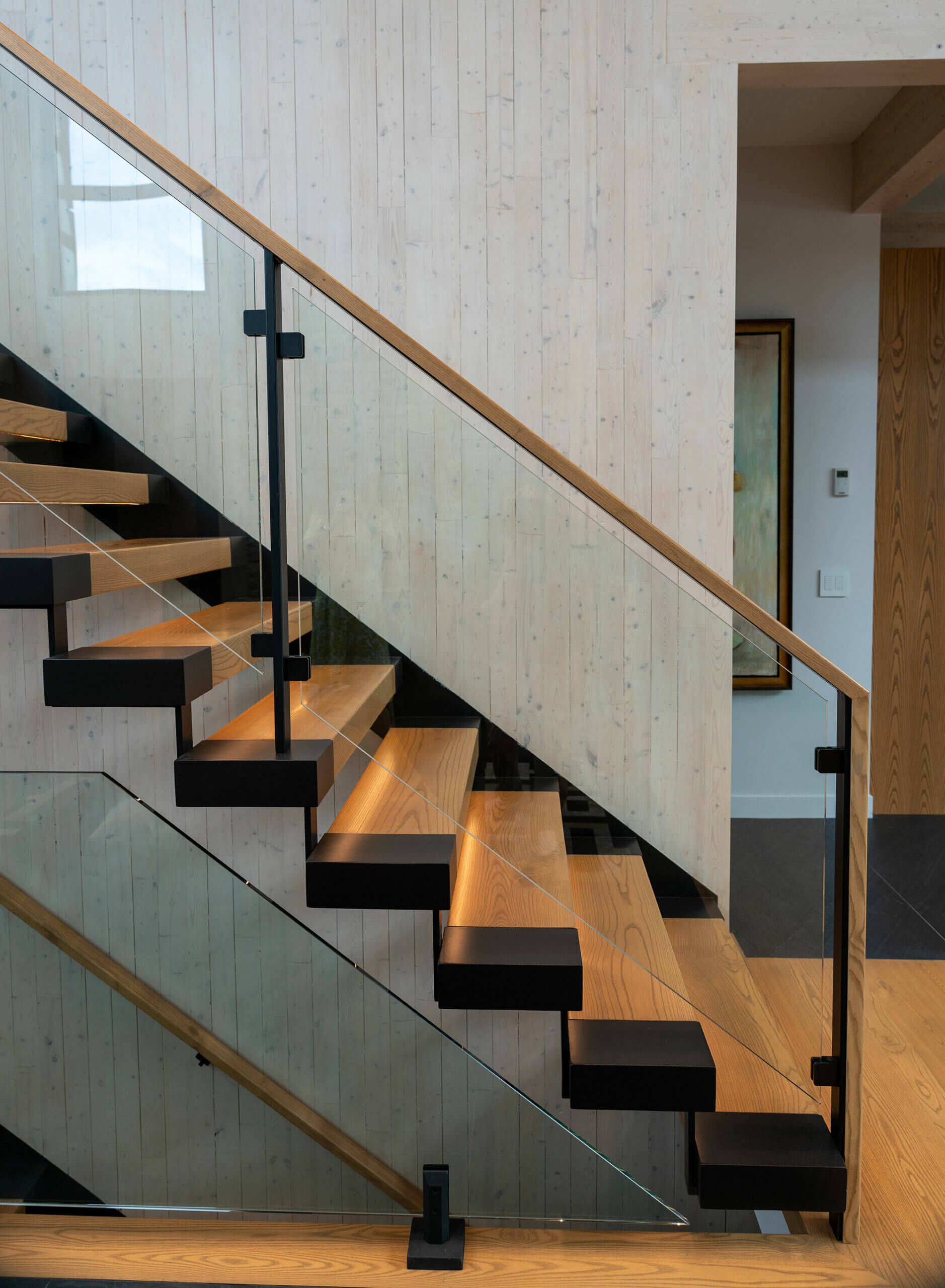 ---
Glass railings
For all your residential and commercial needs.
Projects
Over 300 glass railing projects completed to date.
Models of glass railings and guardrails
Rampes et Balcons St-Sauveur is an expert on interior glass railings. Our made-to-measure products will add chic, refined finishing touches to the design of your home or office. Glass railings and guardrails are increasingly sought after for their clean lines. They're an innovative high-end product and increasingly popular with owners who want to express style and refinement. Glass railings add value to your property!.
The thickness of the glass (6 mm, 10 mm or 12 mm) and the mode of insertion for glass railings and guardrails vary depending on the model. You have numerous options to personalize a glass railing and create the décor of your dreams:
Clear, tinted or frosted glass
Glass inserted in black or naturalstainless steel spigots, a slider on the floor, posts, clamps or a frame
Posts and frame made from wrought iron, wood or aluminum
Possibility to add a handrail
---
Have a look at our finished projects and see that the possibilities are infinite!
A few frequently asked questions about glass railings
Because they are designed to resist the rigors of the Québec climate, glass railings and balustrades are suitable for both the interior and the exterior of a home. They're a choice solution to fence in and secure a balcony, deck, mezzanine, stairway or much more. Since they are transparent, glass railings fit right into any décor or style of architecture and will adapt to any changes you make in your property over the years while meeting your individual needs and your budget.
The glass railings and guardrails we design are made from tempered glass. This means that it has been treated to resist shocks and temperature changes. Tempered glass is sturdy and won't break under hail or freezing rain, and it will keep even the most rambunctious children safe! Our railings and guardrails are very resistant and exceed the standards in the Building Code, so they're one of the safest options for any home or business.
The price of glass railings and balustrades varies with several criteria, in particular the finish, mode of insertion of the glass, model chosen and complexity of the project. Prices start at $90 per linear foot for exterior glass railings and $175 per linear foot for interior glass railings, including installation.
Contrary to popular belief, these types of railings are easy to maintain and don't require frequent polishing to remain bright. You will just have to clean them once or twice a year, particularly at the end of spring when there is a lot of pollen in the air.
One of our experts can come to you to present the different models and discuss the available options in order to give you a quote that meets your expectations and needs.
Once you accept the quote, we'll prepare a detailed plan of the railing or guardrails. Allow about 10 days for production (this may vary depending on the demand), then from half a day to a full day for installation, depending on how complex the project is and the preparation needed. Contact us to get a quote.
At Rampes et Balcons, we are concerned with supporting the manufacturing industry in Québec, and that's why the components in our railings, guardrails and balustrades (such as aluminum and tempered glass) are entirely produced in Québec. Besides offering superior quality and refined designs, these products are adapted to our changing climate. They also help us to reduce our environmental footprint by reducing transportation!
For all your questions about our tempered glass railings and guardrails, contact our team!